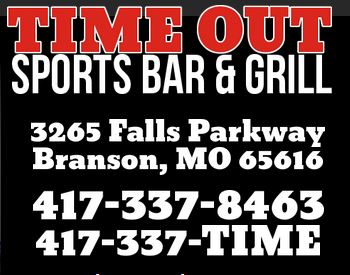 Monday -Saturday 11am-1am

Sunday 11am -12am
Happy Hour

Monday-Friday 4pm -7pm

to Time Out Sports Bar & Grill
Time Out Sports Bar & Grill is the only place to catch all the games in Branson! 15 big screen TVs so you don't miss any of the action, the best wings in the area and drink specials all day long. You will love our casual environment with a neighborhood feel - everyone loves to visit, relax and have a great time.
Next »
Time Out Sports Bar & Grill is the perfect place to meet with friends and enjoy great food and cold beer. Our 9x12 projection screen and 15 Flat screen TVs make us the destination for everyone from the casual sports fan to the die-hard fanatic! Happy Hour and daily menu specials make us a great place to unwind and let loose after work.
Enjoy outdoor dining and relaxing, on our comfortable outside patio, weather permitting of course.
2 Games. 2 Screens. Or rent the VIP Room with your own 55" TV and sound!

We are Branson's only non-smoking bar. Try our outside covered deck 'For those who must.'


Our signature wings .. oh yeah!

Wings are available boneless, bone-in, breaded, naked or tossed in one of our many sauces made right here in our kitchen. Simply outstanding and saucy!

On top of Branson's best wings, we also have a full menu filled with both delicious classics and original culinary masterpieces.new pork wings today
If there's a game on-even if it's pay-per-view, chances are it's on an HD screen at Time Out Sports Bar & Grill.

Every table has an excellent view of several TVs, so you can catch the big game while you enjoy a bucket of wings and a cold beer. Every seat is the best seat in the house at Time Out!
Rent our VIP Room for your private party or for personal viewing of your favorite game on the 55" big screen. VIP treatment for up to 10 people. Call for details. 417- 337-8463

Time Out Sports Bar & Grill works hard to bring you the best live entertainment the area has to offer. Professional DJ's keep the place hopping with a D.J. Dance Party every Friday night, and the best local bands are scheduled weekly. Check out Upcoming Events here.

Call us today to schedule an event at our restaurant or to learn more about our

VIP room.